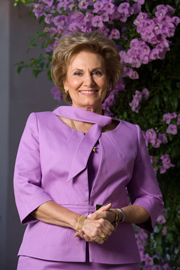 A teacher of Portuguese language and culture, Maria Cavaco Silva has devoted special attention in recent decades to issues surrounding education and culture, besides matters such as childhood and social solidarity.
The challenges that face families and youths in today's world or the new demands in the matter of social welfare have always been on her agenda, now businer since President Aníbal Cavaco Silva took up his present duties in March 2006.
Involvement in official acts and institutional events, as well as in organisations, associations and various entities of civil society occupy a substantial part of her routine, as was the case in the 80s and 90s when her husband was prime minister of Portugal.
Maria Cavaco Silva took her degree in Germanic Philology at the University of Lisbon Faculty of Letters. Her graduating thesis dealt with "Yearning in Holderlin's Poetry", a matter analysed in comparison with Portuguese Yearning, with Teixeira de Pascoaes in particular.
She also took the Pedagogic Sciences course at the Lisbon Faculty of Letters.
Maria Cavaco Silva began teaching in 1960 at the Doroteias School. She alto taught at the Passos Manuel, Rainha D. Leonor and D. João de Castro high schools, all in Lisbon.
In 1963 she accompanied her husband to Mozambique, where they lived in Lourenzo Marques (now Maputo) during two years. Here she taught Portuguese and foreign languages at the Salazar and D. Ana da Costa Portugal high schools.
From 1971 to 1974 she was in York, England, where she had a working relationship with the Language Teaching Centre where she attended German and Italian courses. Since Portuguese was not taught officially in the region she gave private lessons to foreigners of various nationalities. At the same time, she took the opportunity to enhance her knowledge of English language and culture.
In 1977 she began lecturing Portuguese Language as part of the Philosophy course at Universidade Católica Portuguesa, in Lisbon. As from 1981 she lectured the same subject in the Theology course and Portuguese Language and Culture as part of the course in Law of the Faculty of Human Sciences at the University.
At this Faculty she gave a summer course for Portuguese-Americans in July/August 1985, the subject being "Portuguese Language in Contemporary Portuguese Novels".
She then started to lecture the Annual Portuguese for Foreigners Course as part of the Socrates/Erasmus programme, an activity that she kept up until 2006.
She still maintains her link with the Universidade Católica where she sometimes teaches Portuguese Literature and Cultures as part of various courses.
In the 1999/2000 academic year she taught Portuguese Language in the Media and Philosophy courses at the university.
She has published articles on authors such as Luis de Camões, Gil Vicente, Bocage, Camilo Pessanha, Cesário Verde, Camões, José Régio, Natércia Freire, Ruy Belo, Vergílio Ferreira and Sophia de Mello Breyner Andresen.
She has also published a study and given a conference on Sophia de Mello Breyner Andresen and another on women in Cesário Verde's poetry.
During her travels she maintained contacts with readers of Portuguese in several countries and made several speeches, on a private basis, mainly in Brazil, on contemporary Portuguese writers.
Maria Alves da Silva Cavaco Silva was born on March 19, 1938, in São Bartolomeu de Messines, Silves (Algarve). She married Aníbal Cavaco Silva on October 20, 1963.
The Cavaco Silva couple has two children and five grandchildren.