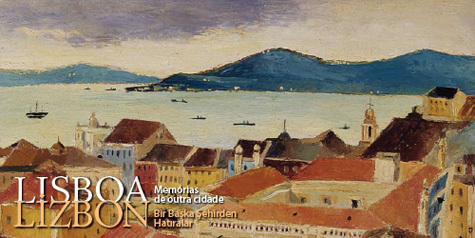 Dates: 13 May to 14 July 2009
Location: Sakip Sabanci Museum, Istanbul
Organization: Presidency of the Republic / Calouste Gulbenkian Foundation / Sabanci Foundation
Exhibition Commissioners: Helena de Freitas and João Castelo-Branco

Message from the President of the Republic
"The blue sky — the same as in my youth —
Eternal truth, empty and perfect!
Oh smooth Tagus, ancestral and mute,
Trifling truth where the sky finds its reflection!"

That is how Alvaro de Campos, assumed name of Fernando Pessoa, describes the city of Lisbon, where the poet was born. The colour of the sky, Lisbon's radiant light and the contrast with the river that flows across it, the Tagus, has enchanted and inspired many poets, musicians and artists over the centuries.
In 2007, the Calouste Gulbenkian Foundation received in its museum the exhibition "Memories, Crossings, Ambience. Paintings from the Sakip Sabanci Museum, Istanbul", with a collection of works from the late XIX century and early XX century, where Bosporus views, seascapes and scenes from Istanbul's daily life could be seen. And it was surprising to confirm, in this exhibition, how Lisbon and Istanbul, the two most western and eastern cities of the European Continent, share landscape and environment.
The light, the water, the quiet cosmopolitanism, the city as a port (and spot) where cultures, civilizations, religions and continents crossed, all this Lisbon has in common with Istanbul. That was the reason why I decided to include in my State Visit to the Republic of Turkey the exhibition "Lisbon, Memories of another city", organized by the Calouste Gulbenkian Foundation, to whom I thank for all the endeavour it placed in its achievement.
Through the view of some of the more representative Portuguese painters of the late XIX century and early XX century, the exhibition unfolds the memory of a Lisbon with which Calouste Gulbenkian fell in love.
Lisbon is a city with history, muse of poets and sung by "fadistas" (singers of the traditional Lisbon song), but nowadays it is also a city of the future, of development, of technology, of science and of success. Such as Istanbul. I have great hope that this exhibition awakens in its visitors the wish to become better acquainted with the capital of Portugal and that they discover the much that the two cities, Lisbon and Istanbul, and also their peoples, Portuguese and Turks, have in common.